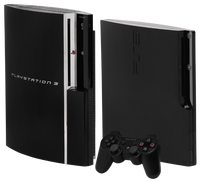 The PlayStation 3 is the third home video, seventh-generation gaming console produced by Sony and a succesor to the PlayStation 2. It directly competes with Microsoft's Xbox 360 and Nintendo's Wii.
It features an upgradable hard drive (PS3 "Fat" Model: 20GB, 40GB, 60GB, 80GB, 120GB; PS3 Slim Model: 120GB, 160GB, 250GB, 320GB), includes a unified online gaming service, the PlayStation Network, much improved CPU, high-definition graphics, connectivity with PlayStation Portable via Wi-Fi, and the Blu-Ray media as its primary storage medium.
The PlayStation 3 was first released in Japan on November 11, 2006 followed by North America on November 17, 2006 with it's original "Fat" model.
In September of 2009, Sony released their new "Slim" model.
Community content is available under
CC-BY-SA
unless otherwise noted.