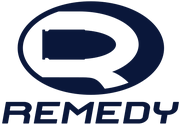 Remedy Entertainment is a Finnish videogame developer. The studio created the original Max Payne, released in 2001, and its sequel Max Payne 2: The Fall of Max Payne, which came out in 2003.
In 2004, the Max Payne rights were sold to Take-Two. Max Payne 3 was, therefore primarily developed by Rockstar Vancouver. Remedy, as per request by Rockstar, provided their input to the new devs about Max Payne 3 and were involved in testing the new game.
Creating Max Payne
[
]
After developing the top-down racing game Death Rally, Remedy focused on building Max Payne.[1]
The goals established by the studio were: bringing to life a new, compelling and rich character, and pushing the innovation of shooter genre gameplay with the implementation of bullet time.[1] Due to budget constraints, the company could not afford to hire models for characters, including the protagonist Max Payne, therefore Sam Lake and other developers had to step forward and be those whose likeness would be used in the game.
Right before the start of the production of Max Payne 2, the intellectual property rights of the franchise were, in 2002, sold to the publisher Take-Two Interactive for $48m.[2]
They are not directly involved in the development of Max Payne 3, though they do give their feedback to Rockstar.
After Max Payne
[
]
In 2010, Remedy shipped the psychological action thriller Alan Wake for Xbox 360. A version for the PC came out in February of 2012.
The most recent Remedy game is Alan Wake's American Nightmare, the follow-up to Alan Wake. It was released February 22nd, 2012.
Notable members
[
]
References
[
]
External links
[
]