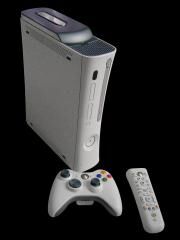 The Xbox 360 is is Microsoft's second gaming console, the second home video, seventh-generation gaming console produced by Microsoft and the succesor to the Xbox. It was launched on November 22, 2005 and international markets soon follow after. It features high-definition graphics, improved CPU. and advanced online-gaming capabilities. It directly competes Sony's PlayStation 3 and Nintendo's Wii.
The Xbox 360 Elite is an upgraded version of the console, with a 120GB hard drive and an HDMI output port. However, many of the upgrades are now available individually for existing Xbox 360 consoles, excluding the 120GB HDD drive.
The Xbox 360 'S' is an upgraded version of the original design of the Xbox 360, announced and released on June 14, 2010. It is smaller, quieter, has built-in WiFi, more USB ports, produces less heat, and comes standard with a 250GB HDD drive.
The successor of the Xbox 360, the Xbox One, was revealed on May 21, 2013 and released on November 22, 2013, exactly 8 years after the Xbox 360.
Rockstar games for Xbox 360
[
]
Rockstar Games presents Tennis Table
Gallery
[
]
See Also
[
]